Disclaimer: I was not paid for this post, though I did receive a gift bag with a $50 gift card and a few product samples from other Easton stores as a thank-you for attending the opening event. All views and opinions are my own.
Last post, I mentioned that I attended the grand opening of the new Marmi store at Easton on Friday. If you've never heard of the store, don't worry. I hadn't either, until Amanda of Girl About Columbus reached out on the store's behalf to invite me to the event. And man, am I glad she did!
The store was gorgeous, and the shoes and accessories were all just phenomenal. Take a look: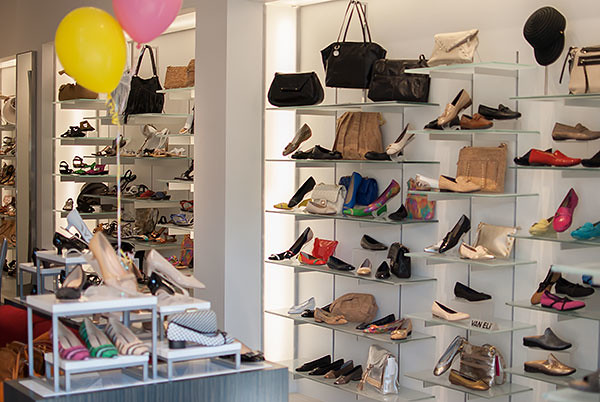 More often than not, you'll find me talking about budget fashion here on VM. Places like Discount Fashion Warehouse, Target, Old Navy, thrift stores, and so on make frequent appearances around these parts. But I think it's important to have a few high-quality investment pieces in your closet as well, and that's where Marmi comes in. Because girl, those shoes are SERIOUS BUSINESS.
I'd be lying if I said the price tags didn't intimidate me at first. Truth be told, the only item in my closet that cost me more than $100 is a bridesmaid dress from last year. But as I become more thoughtful about my fashion purchases, planning them in advance and avoiding the impulse buy, I find myself more willing to really invest in quality pieces. "These flats are nice, but I don't think I'd make them an investment piece," I thought to myself as I perused what the Marmi store had to offer. And then I tried a pair on.
You guys, I am not exaggerating when I say it was a life-changing experience.
See, Marmi specializes in shoes that fit "uncommon" sizes and shapes of feet. They have widths ranging from narrow/slim to extra wide, and sizes 4 to 13. (Sidenote: Ally, have you shopped here before? They have crazy-cute styles that you might not find anywhere else.) As for me, I have an average width across the balls of my feet, but my heels are pretty narrow. A lot of pumps and even flats tend to slip off the backs of my Achilles tendons. I thought it was just something I'd have to deal with. Turns out, that's a common issue, and Marmi's shoes are designed to address it. The shoes taper, y'all!
And let's talk a minute about arch support. Typically, this is only something you find in ugly "practical" shoes, or with the aid of a shoe insert. Marmi offers a lot of shoes with built-in arch support that give you comfort without sacrificing style. Some even have memory foam-esque material inside! And because the brand focuses on making shoes that you can spend the whole day in, you won't find a single stiletto or ungodly high heel in the store. I swear I felt like I was standing on tiny pillows.
If you're wondering, those shoes up there that I tried on are the Vaneli Sigrid (green in the top-right), Vaneli Sheary (plain black in the bottom-right), Sesto Meucci Acantha (brown in the bottom-right) and Vaneli Chrissie (black w/ buckles in the left and middle-right). It was a true test of my willpower to tear myself away from all four of them, as my March clothes budget was already spent at that point. Somehow, I managed.
Now, the major car repair I mentioned in the last post means my clothes-buying budget is on temporary hold. (And it makes me doubly glad I left the store without blowing some major cash on the shoes I fell in love with.) But as soon as the temporary hold is lifted, you better believe I'm gonna save up some serious dough and invest in some comfortable and timeless heels and flats!
Have you ever been to a Marmi store/tried on their shoes? What did you think?